Chris and Lane now live in Provo, Utah. Their house is one of the back row ones you can see. Immediately behind their house is this mountain. Not a bad back yard.
Lane and Chris.
Ollie keeps on growing. He loves to say "hi" and command you to "run," after which he may or may not chase you.
Last day of riding. Jason takes some pictures at Brighton.
Some boards hanging in one of the lodges. It made us feel old and old-school to see boards in this gallery that we actually owned.
This shot is kind of fun. You are looking at the side of Solitude resort. If you can see those tracks in the middle, you will see where we rode two days before.
A couple of my favorite runs were some of the very last ones we took. The trees at Brighton were still pretty full of powdery spots.
The sun was starting to grow long and created some beautiful lighting in the trees, not very well captured by this picture.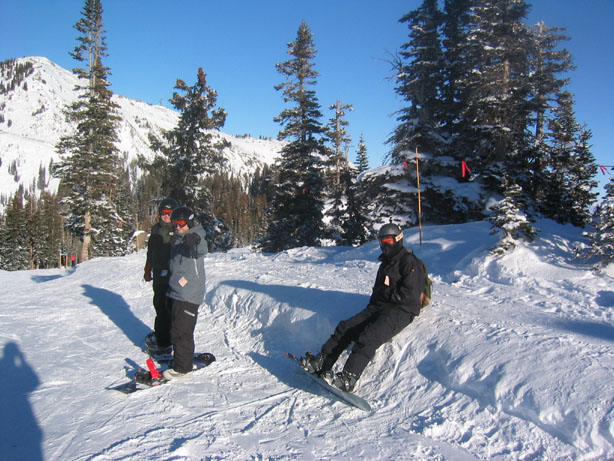 The last run of the trip, with all four guys represented, if you count my shadow.
I took this video while riding down the hill on our last run. 7 MB I was experimenting with trying to shoot different things while riding, like my board as it passes over the snow. The "oh that was..." at the end of the video was me saying "oh that was COLD!" I nearly froze my hand off riding 30+ mph in 0 degree weather with my glove off while holding a super-cold metal camera. But it's kind of a fun video. I was going somewhat fast, but not nearly as fast as some of our top speeds.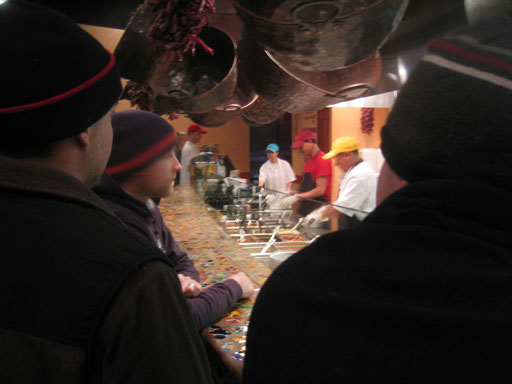 We ended the trip with some fresh Mexican food, made to order before our eyes. Two thumbs up for Bajio.
That's it. See you next year.