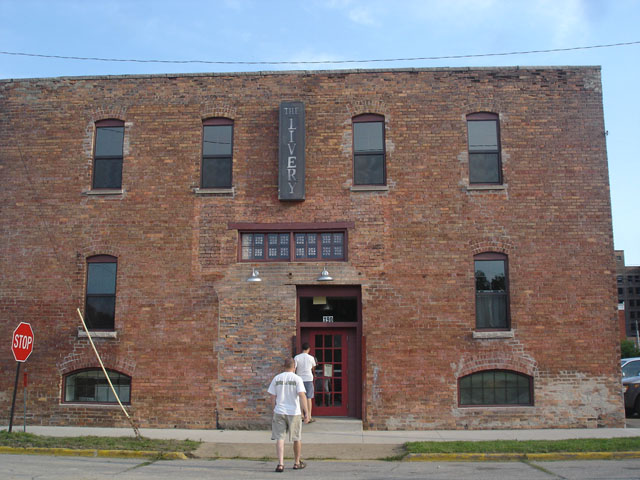 When Jerry and I were at the Great Taste of the Midwest 2006 we were thoroughly impressed with all of the Livery's beers. In fact, soon after the fest, the concept for this trip was born - tour the Midwest and hit up some brewpubs and breweries we can never otherwise enjoy. So getting to the Livery was kind of a pinnacle moment of the trip.
Cheers - the first three drinks. Ruby Red, Pale Ale, Imperial King Cole Porter (all three on cask).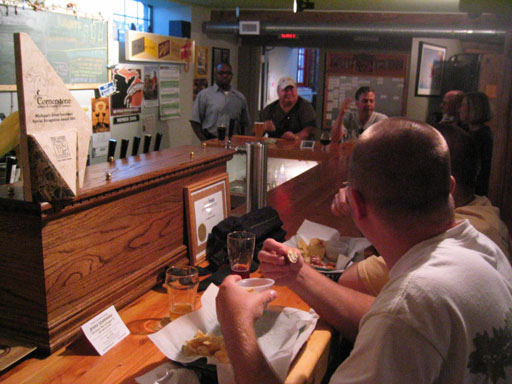 My view sitting at the bar.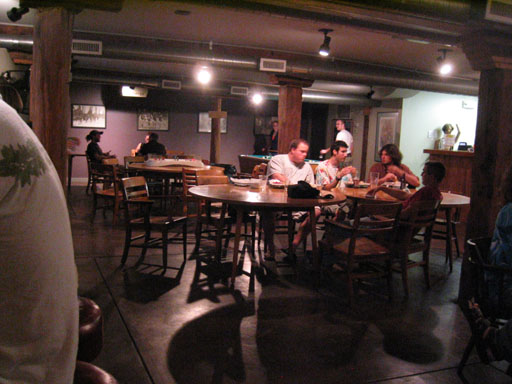 Thirteen beers on tap, nearly all of them very good.
Upstairs there is a very beautiful concert area and bar. There is a balcony too.
We sat out on the patio a bit.
Some of the higher gravity beers.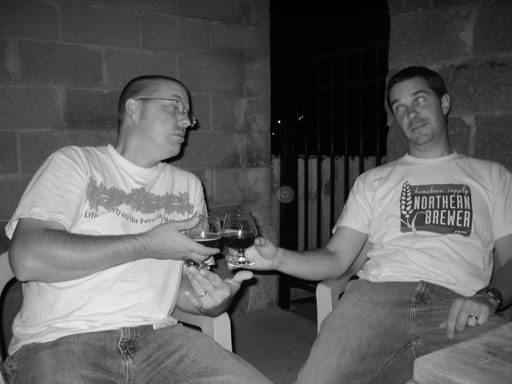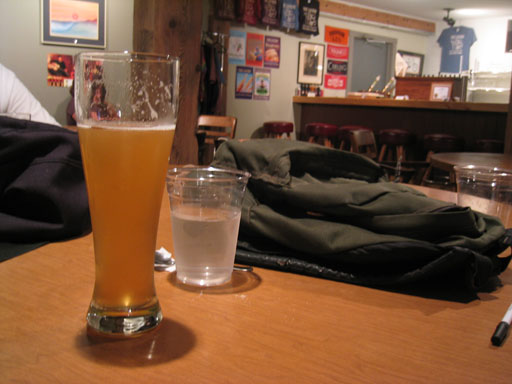 The Pilsner was actually one of my favorites. Steve the brewer said it was one of his too. It is a hard style to make and he nailed it. After I had been through the samples I enjoyed a full 22 glass of the stuff. Then I became the DD while Mike and Jerry continued to whoop it up.
The man, the myth, brewer Steve. We actually stayed until closing and talked at length with him bout his brewery, the beers, and the town of Benton Harbor. Good luck in the future!
Beers tasted in addition to the three listed above:
Dark Czech Lager
McGilligans IPA
Raspberry Wheat
Poor Freddy's Pils
Hefeweizen (also perfect example of style)
Dixie O Flyn Stout
Hoppelbock - brandy cask
Hoppelbock
Tripple Weizen Bock
Tripple Weizen Bock - whiskey barrel aged
Tart Cider
The next morning was our only restaurant breakfast, mostly because we could walk there in two minutes.