Bicycle commuting from St. Paul to downtown Minneapolis.
Here is my bike ready to leave my yard and hit the road.
This is a pedestrian only bridge that I use to cross I-94. Riding onto the bridge: bike_ride_v01.avi 4.9 MB
From the pedestrian bridge, looking west towards Minneapolis. I love seeing all the poor saps driving to work, especially when they are in a traffic jam. :)
After crossing I-94 I ride through a little park. This is a community garden area of the park.
An albino squirrel in a tree that is actually in the yard of a friend of mine.
This trip of Griggs is one of the few sections of my route w/o any bike lane. It is just through residential neighborhoods and not too bad.
Once I get to Summit Ave, not only do I ride by ridiculously nice houses, I have my own bike lane! I like how my shadow gets in this picture.
A couple miles down Summit, and then I meet up with East River Road. This particular section was paved last year and is super smooth.
The Mpls skyline is off in the distance. It is still a ways off. That is the Marshall Ave/Lake St bridge.
This is where St. Paul ends and Mpls begins (but still on the "St. Paul" side of the river). There is a section you see allowed to grow as a prairie. It's fun to ride by.
I don't know what this big ol' iron-looking bridge is, but it's cool to bike under.
Where the River Road and Franklin meet, there's a whole lotta construction going on.
The skyline gets closer. You can see my building marked with the red arrow. The highway you see is 35W.
As I get near the U of M I go down a big hill. I get up to about 30 mph. It's not the best idea to try to ride this one handed, but, that's what I did to get this video. :) 5.6 MB
After going down the hill, I have to go up a big one. I pass by the Weisman art museum and...
... your favorite U of M car and pedestrian covered bridge.
Some days I snake through this little courtyard. It always reminds me of my trips to Europe for some reason.
On the U of M campus, downtown is not far away now. You can see a pedestrian bridge that I used to bike over, but gave it up because it's so bumpy. I ride the extra block and take the nice bridge I am standing on when taking this pic.
You can see the grain elevators and the Pillsbury Best Flour sign on the north side of the river.
Now it's time for one of my favorite parts of the ride, cruising over the Stone Arch Bridge. Here goes: bike_ride_v03.avi 7 MB
View from the Stone Arch Bridge.
Panoramic view. You can see the new Guthrie Theater at left. People can go out on a balcony which hangs over the road (see below).
Looking East towards St. Paul.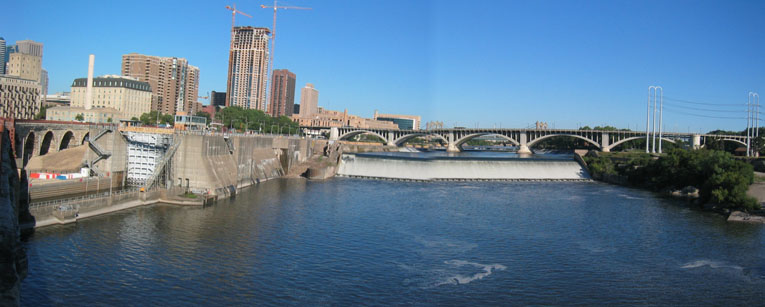 This panorama did not stitch together very nicely, but here it is.
Another shot of the waterfall/dam thing.
This is a little closer shot of the Mill City Museum. I have never been there, but I like how it looks with the modern building in back while utilizing the ruins of the old building.
This is the part of the Guthrie I mentioned that sticks over this road.
There was a glass wall near the Guthrie and I took this pic of me in my full safety-geek glory. I may look geeky, but I'll tell you a quick story. Just a week or so ago I was going through a completely green light when I saw a car coming at me pretty fast from the side. I looked up at the green light to confirm that, yes, I had a green and that car should be stopping. It did not stop but went right through its red light. Fortunately she saw me and stopped before completely T-boning me. I can't help but wonder if the vest and stickers might have helped her see me in time.
Spoon River restaurant, where my sister works. :) It is next to the new Guthrie.
After the Stone Arch Bridge I make my way to Portland Ave.
Portland has this bike lane. So almost my entire ride can be a bike path or lane. It is further than the most direct route, but much less stressful and more enjoyable.
Here is my building. 9.25 miles later, I'm there.
I park in my building's parking ramp. There are a few of us who know of this secret bike rack.
And after changing, I'm set to work. Just look at me! I am so ready to solve the computer problems of the day, invigorated by the fresh air and exercise, ready to do my best for my company!... Is it 4:00 yet?