For stop #4 we biked down Cathedral hill, into downtown St. Paul, and down 7th street to one of our must-visit St. Paul places.
Pete, his pear brandy, and some taps.
Pic by Mike. Don and his dark wheat beer.
The ladies took one end of the tables and the guys took the other. Lacy (friend of James), Jamie, Heather, Charissa, Teresa.
Pic by Heather? Mike and his bock (we think it was a Maibock).
View of the Glockenspiel bar area.
Pic by Mike.
Pic by Mike. It was quite a ride to the next stop because the Taste of MN fireworks had just ended, and 7th steet was a jumble of pedestrians and cars. We had consumed a few adult beverages by then so biking through the maze was blurry fun.
Stop #5 was Great Waters. A lot of post-fireworks folk beat us to the patio so we had to sit inside. Here is a video of the scene.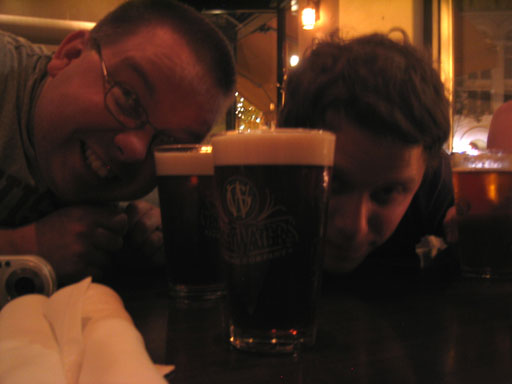 Mike and Dave and their hoppy beers (not as dark as they appear here).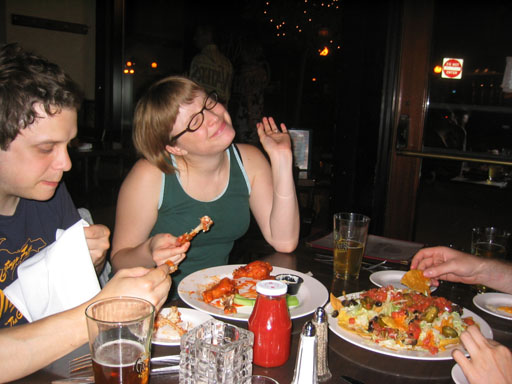 Charissa enjoying the wings. By this time of the night most of us were getting hungry again.
Pic by Mike.
It was a special night because when it turned 12:00, Jerry turned another year older! Mike and Heather brought noise makers and we let them rip at the stroke of Midnight. Here is a video of the Bday song and noise.
Dave and Don outside Great Waters.
Charissa and Dave taking a sit down before biking up the hill to the last stop.
Stop #6 and our last one was The Happy Gnome.
There were not many people left on the patio by the time we got there, probably about 1:00.
Pic by Mike. Teresa and Jason hanging till the bitter end.
That's it. Back to Don and Jamie's to load up the bikes.
Until next time...