The Grumpy Troll, New Glarus Brewing,
Capitol Brewing, The Great Dane brewpub
and
The Great Taste of the Midwest
Aug 11-12, 2006
Madison WI and surrounding areas
We left St. Paul Friday morning and got to the Grumpy Troll Brewpub in Mt. Horeb, WI around lunch time.
A little shot of their brewing setup.
Finally, beer!
The first drink in a weekend of many drinks.
After lunch, we drove about 18 miles down to New Glarus Brewing. They had special goings-on because of the impending Great Taste of the Midwest. They were pouring free samples, letting us keep the sample glass, there was a food spread, and they were giving free guided tours of the brewery. See my New Glarus Brewing page for lots more pics and details.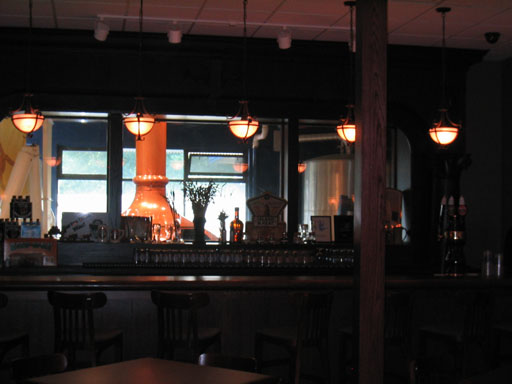 After New Glarus we drove up to Madison and met up with my friend Scott. He took us to Capital Brewing which was not too far from his house. I snapped this inside shot of the quiet and dark bar. It was quiet and dark because everyone was outside!
The outdoor bar they had set up.
One view of the biergarten. Here is a video panorama of the scene. 2.25 MB
Don and Scott.
Capital Brewing gift shop.
Enough drinking. Time to eat. We went to the Great Dane Fitchburg brewpub (not the downtown one). Scott lives fairly close to it.
Ok, maybe just a little more drinking...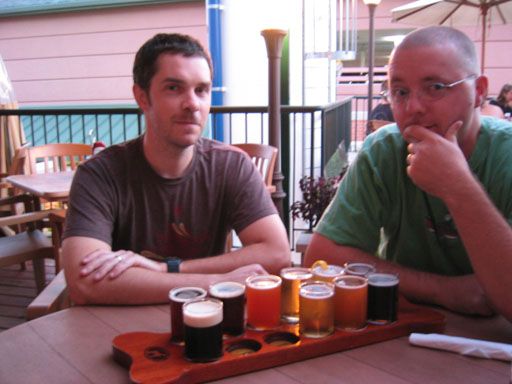 Don and Jerry contemplate digging in.
A little shot of some of their brewing equipment.
I took this the next morning when we were getting on the shuttle to the fest. An empty bar at 11:00 am.
Enough of this bull jive! Take me to the Great Taste of the Midwest page!