Tastings and Events -page 2
BATE #6 May 08, 2004. Paul's house.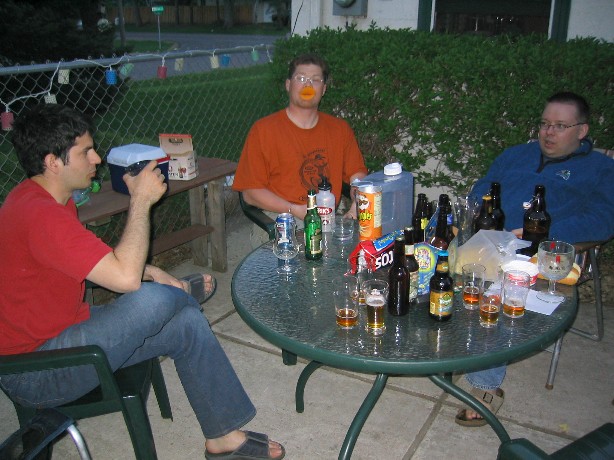 We started the party outside and cooked up some grub on the grill. Nick, James, Mike.
Paul stands by his impressive ventamatic faucets. Pouring that night was his Helles and American Wheat.
Don takes the faucet for a spin...
...as does Mike.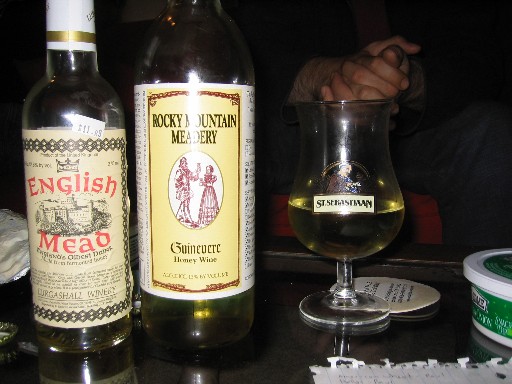 The meads James generously contributed.
[The one picture with Pete in it was too blurry to use].
Autumn Brew Review September 11, 2004 (Fourth one).
HERE are more pictures of ABR 2004.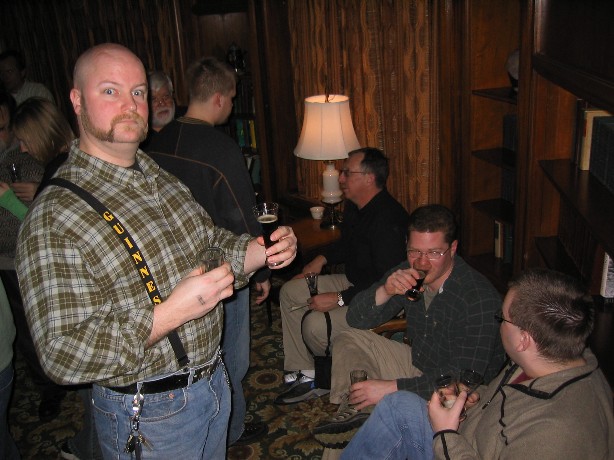 Pete, James, Mike at Winterfest 2005, February 19, 2005. St. Paul College Club on Summit Ave.
James, Mike, and Don in the Library of the St. Paul College Club.
One view of the large room.
Mike and Don.
Pete so crazy. He tried to pour some of his beer sample into James' coffee cup.
I set my camera on the mantle to take this picture, and a random stranger dude jumped in to the frame.
Josh and Bruce.
To be honest, I wasn't sure what Mike had in mind with orchestrating this shot. But then....
...I guess I see what he was going for.
All night I was beside myself trying to find a pen since I forgot one. I found one upstairs, on a mantle, behind a picture frame. I swore I'd return it at the end of the night and, well, somehow I managed to do so.
A panoramic shot taken from the stairs of the room you walk in to from the front door.
Mike greets Heather, our sober cab driver.
And for once, we end the night NOT with people passed out on benches or the grass, but with a couple guys wrestling in the snow. Until next year!
A couple beers at the Autumn Brew Review, Oct 8, 2005.
Click here for some more pics and videos.
Don getting cheeky at Winterfest 2005. I did not take a ton of pics, but here are a few -> zip file. 300 k
Autumn Brew Review, Oct 7, 2006. More pics -> HERE.
Autumn Brew Review, September 29, 2007. Details.
This was by far the best ABR since the first or second year. Man oh man was it awesome. It was in a new place, the parking lot behind the historic Grain Belt brewery.
Great times and I can't wait for next year. Maybe Adam won't tackle me and break my glass.
Winterfest February 8, 2008, Landmark Center, St. Paul, MN.
I did not get many pics here. My battery ran out and the extra I brought was dead. And it was very low light. But, here are a few of them.
Firkin Fest! Happy Gnome parking lot (tent for St. Patrick's Day) March 16, 2008.
Very good times, although I was super sick. I mean ill, not sick like a rad skater. Details
--> on to Page Three