A faithful replica of Shakespeare's Globe theater, near the original location. We thought about taking the tour but did not fit it in before the week was up.
You know it, you love it, we did not ride it -- the London Eye.
A bit of the Parliament building, Big Ben, and the ever-present double deckers (which are good fun to ride on the 2nd level when you get a chance).
We toured Churchill's Cabinet War Rooms and found it quite interesting. He and his cabinet lived underground in the complex for around 6 years. The room above was one of the map rooms.
We ended up in Trafalgar Square a few times, and here was the first.
Click here for a panorama picture of Trafalgar Square (277k).
And here is a video of Dave the Tour Guide explaining the square. 3.7 MB
Kicking it in one of the booths at Cittie of Yorke pub.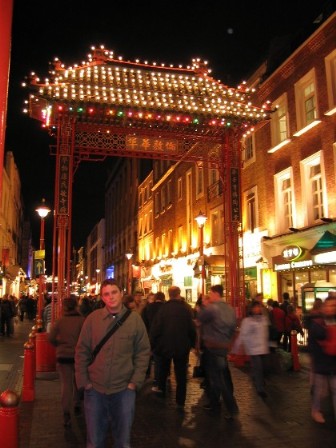 Dave on the glitzy Chinatown main drag. Some of the side streets are a little less plastic. We ate some good Chinese food at one of the restaurants.