Beer Report -page 2
"Who me? Well I'm drinking a beer at a Champs-like bar in London." After Ye Olde Mitre we wanted something to eat and wandered into this less-than-ideal place.
Arkell's 3B £1.79 pint 4%
The nice bartender gave me a number of samples to try and this was about the best. Black Adder was ok too and a stout or porter, but they just ran out of it. So I got this. Not really a "beer" bar. More like Champs. But the beer tastes similar to other ones and is drinkable. Reddish brown color. All right.
"So sleepy. Must stay awake. Must... drink... beer...." Dave at his local Landseer, the pub he usually frequents. In his defense, he was way less blotto than the picture suggests.
Marston's Pedigree £2.40 pint
Not bad. Can't say it's better than other ones. Might be an off night. Dave says it tastes a little weird. Skunky?
The underwhelming Greene King IPA at the Landseer.
Greene King IPA £2.20 pint 3.6%
I would never know this from a normal bitter. It is no more hoppy, and the alcohol is pretty low for an IPA.
Charissa glowing at the Black Friar.
Charles Wells Bombadier Premium Bitter £2.20 pint
Quite nice. The first beer of a night that will probably contain many. Sweet, smooth, low carbonation, light bitterness, very nice. Hop finish. (The bottled version of this tasted rather different but was still good).
Another wood carving at the Black Friar. Also you can see where there is another room. Many of the pubs had many rooms, or at least booths, nooks, and crannies.
One of Dave's friends drove us to St. Albans, where we hit 3 pubs. The first was Six Bells and was a low-ceiling, real-wood-fire, homey, warm country pub.
Tetley Bitter £2.20 pint
Quite nice. Little bitterness and good. But, this pub is great. Timbers, hearth, lit wood fire. Great place
Black Lion -St. Albans
Addlestone Cider £1.10 half pint cask cider(!)
Made around here? Very nice. Not cloyingly sweet. A unique drink. Kind of light sweetness, but otherwise a litte tart and dry. Nicely balanced.
McMullen Original AK - Bitter £2.10 pint
Decent beer. Made in Hertforshire. Nothing bad or outstanding but plenty good.
Blue Anchor -St. Ablans
Morland's Old Speckeled Hen £2.40 5.2%
Very nice. More malt. More flavor. And.. more alcohol. Rich but drinkable. Good stuff. Bit of a twang.
McMullen's Country Best Bitter £1.14 half pint
Little more flavor. Good stuff. More taste than average Bitter. Bitter finish but nto lingering. Clean, malty, pretty good.
I don't know about you, but when I travel I enjoy seeing what the beer selection is like in other parts of the country or world. That's why I take these dorky pictures. If interested, see Safeway Beers pic 1 (215k) and Safeway Beers pic 2 (234k).
"Damn this is good!" - Drama King. Dave at the Prince of Wales pub.
Salisbury pub
Courage Dirctor's Bitter £2.58 pint
Maybe a little more flavor, a touch more roasted grain perhaps. Ruby red color. Malty and a clean finish, no hop finish like many. Good beer.
Young's Bitter £1.20 half pint
A bit of tanginess. Intentional? Don't really like the other flavor. Kind of a dry finish. Drinkable but there are better.
Nicholson's The Bear & Staff
Bass £1.10 half pint
Way smoother and better than bottle, but still tastes a little like a Bass (duh). Probably the best Bass I've had.
Prince of Wales Pub
Norman's Conquest - Cottage Brewing Co £2.70 pint
Dark ruby red. Much darker. Strong, malty, actually tastes like Old Peculiar, so it must be a strong ale. Clean tasting. One of better beers of trip. Light fruit notes. Has clean finish. Ends and taste is gone. Good stuff. Wonder what reviews say.
Don enjoys Norman's Conquest at Prince of Wales Pub. Just try and take it from him.
Pumpking - Wychwood Brewery £1.49 bottle 4.5%
Doesn't say anything about pumpkin in the description so I wonder why they call it that. An ok beer. A little sharp hop taste with decent malt presence. But the pumpkin title is a little misleading. Actually, I will say it is just ok and would likely not buy it again.
Goliath - Wychwood Brewery £1.30 bottle 4.7%
Tastes the same as Pumpking. Makes me think they make on beer and package it differently. Drinkable but forgettable.
Morland's Hen's Tooth -bottle conditioned £1.95 bottle
Head looks more like a homebrew head, more solid and long lasting. Full strong flavor. Not super enjoyable as it has a little sharpness.
We were in Cambridge on Halloween. We spent the night in two great, old pubs -The Eagle, and the Pickerel. The above picture show some of the available taps at the Pickerel: Woodfordes Wherry, Adnams, Old Peculiar, and London Pride. The blank one was filled with Young's Winter Warmer towards the end of the night.
The Eagle, Cambridge
Ruddle County £2.30 4.3% pint
Deep red brown color. Woody, husky notes with of course fine malt presence. Finishes with a little hop bitterness, lingers in the back of the throat.
Golden Archers (made in Swindon) £1.18 half pint
Ligher color, perhaps lightest yet (maybe due to smaller glass). Aroma is a brewpub aroma. Reminds me of Mirror Pond on tap in Bend, OR. Light hop aroma. Is this an IPA? Nice flavor. Good stuff. Different than most. I'll have to read about it.
Greene King IPA £1.08 half pint
Same as before but I thought I would give it another chance.
Don enjoys a Young's Winter Warmer at the fabulous Pickerel -Cambridge.
Woodfordes Norfolk Wherry Best Bitter £1.10 half pint 3.8%
Quite nice. Notiecable bitter finish. Clean tase with pleasant lingering bitterness.
Theakston Old Peculiar £2.42 pint 5.7%
Damn fine smooth. Even better than bottled version. Very malty, not very hoppy, it is totally drinkable. So tasty. Darn it's good and what else is there to say?
Young's Winter Warmer £2.50 pint 5%
Just put it on tonight. Good but... not a super describable flavor. Hmm. Not like I expected. I thought it would have some spice flavor or aroma or some distinguishing characteristic. But, it is a dark, sweet malty good beer. As it warms, gets a little more flavor.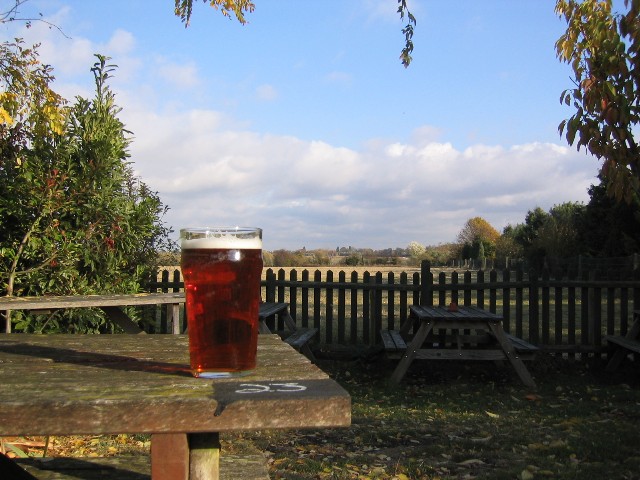 The back garden at the Rupert Brooke pub, Grantchester (near Cambridge) where we stopped before heading out to the Orchard, also in Grantchester.
Flowers IPA £2.30 pint
Not bad but not much different than many of the bitters. Decent flavor and some hop bitterness, mostly in finish.
Maynard Arms, London
Abbot Ale -Greene King £2.25 pint
Decent flavor. I don't like it as much as the first time. I was more inexperienced with cask ales then. Kind of a twang on this pint. Hop finish is still there. Certainly drinkable.
King's Head, London
Staropramen Czech Lager. £2.60 pint CO2 tap
No real ales here and I thought I'd try this. Well, not what I hoped but it's not terrible. A little too cold and a litle more carbonated. Not as smooth as when I had it in Prague. Drinkable. Better than American swill. But a little worse than I had hoped.
Hogshead, London
Timothy Taylor and Co Ltd -Landlord £2.30 pint
Fairly assertive hop bitterness in middle flavor and finish. Pretty clean. Well made overall. Pleasing taste. Nice beer.
The very last pints of the trip at the Hogshead.
*************************************************************
My wife likes a little cider so I brought back a few miscellaneous kinds to try.
The beer (and a couple empty bottles) that made it back. I hadn't seen Guinness Bitter before and have not tried it as of writing.