This was the parking lot from where we started the hike. Here is a video pan (540k) of the scene once we started. It was really windy that day too.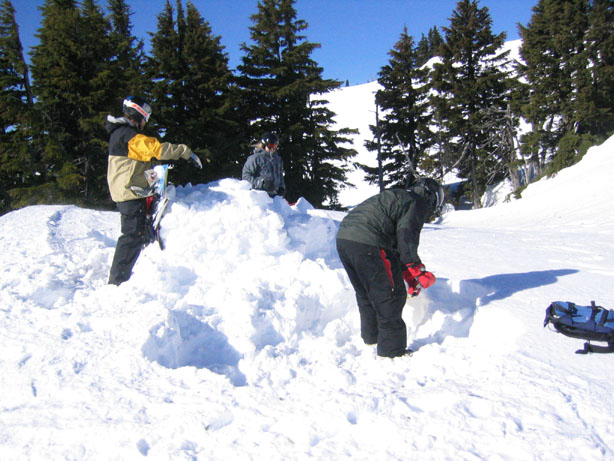 We found a spot to build a jump, but ended up not being able to get enough speed. Chris made a valiant first effort. 440k
We walked a little more and stumbled on a jump that a handful of guys must have spent a long time on. We cleaned it up a little and started hitting it. It was designed so that you would fly off to the left, and land on a fairly steep landing.
Chris took this nice shot of Dave.
Here are some videos of us jumping. I will put mine first (970k) as it is the lamest one. My goal was to not get hurt on the first day, (unlike two years ago) so I took it easy.
Trevor got some good air. Video1 260k Video2 744k
Chris smoothly jumps. 600k
Dave was cautious as first (probably due to this) but eventually warmed up and, as always, went big. Video1 300k Video2 700k
We got to our cabin in Sunriver, OR (near Bend), and some of us headed to Chen's Garden. We were the only people in the whole place. Food was all right at least.
Dave adds his extra special ingredient to the French Toast. The cabin was really nice. It was big, plenty of beds, and had a fully equipped kitchen.
Eating some breakfast before our first day at Mt. Bachelor.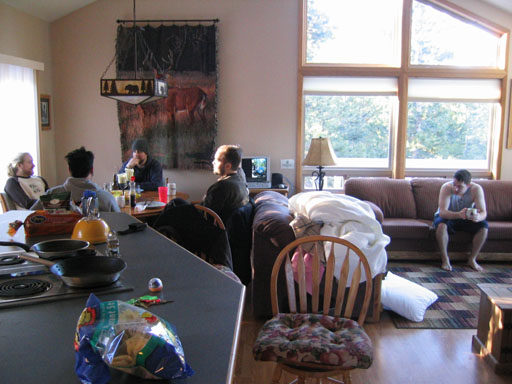 A view of the table at left, the computer we could use for free internet, and the living room at right. Off the living room was a door to the deck with the outdoor hot tub.