Louie made this shield for Mini Don. It protects you from hangovers. It worked great for me the next morning as you can see here. He did not make one for Jerry and Mike. Needless to say, they were not feeling well the next day.
You can't really tell from this picture, but this was taken on a whale watching outing. This was just out of the Harbor of Newport, OR.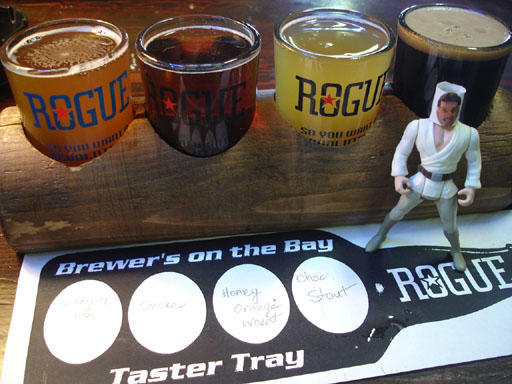 This was at the current brewing facility for Rogue Beer. It is located just across the bay from where I stayed while in Newport, OR. Mini Don was pissed that Mike did not share any of that Chocolate Stout.
Beeramid.
Another day, another server. Nikki from the Rogue Brewing tasting room.
On the Beach. Somewhere in Oregon.
The tan lines were brutal.
Mini Don makes sure the Tillamook cheese is made properly and...
goes in for a closer look. Yup, that feels about right.
Big Don checks out a hidden beach. Oregon.
Liquid Solutions staff. Tigard, Oregon. This is where Mike and Jerry picked up some beer for Actual Don (and themselves, of course).
Mini Don wanted to get me some of that Deschutes cask Pale Ale. He made a wild jump for it but Mike pulled down at the last second. Horse Brass, Portland, OR.
Mike's cousin Tiffany was getting hungry so she decided to try gnawing on Mini Don's leg.
Tiffany's friend Amanda was also hungry. She was able to talk Mini Don into feeding her some fries.
Mini Don rides Jerry's Hair of the Dog.
Mike and Jerry thought it would be fun to put Mini Don's head on upside down and take a picture.
Voodoo Donut in downtown Portland.
Mini Don chillin' with a man on the street outside of Voodoo Donut.
You have to love honesty. Notice the girl on the far right checking Mini Don out.
On the road again. Seattle ready or not, here I come!