Songs
Over the years I've recorded songs on my Tascam 4-Track tape recorder,
although I have not done much recording in the last couple years.
The fidelity is low, but it's been fun.
**UPDATE August 2007!**
I don't know who you folks are, but you are downloading these songs 50+ times in a month. Wow.
If you wouldn't, mind take a minute to drop me a note to say who you are and why you are grabbing them.
There is no problem with it - I'm just very curious. thanks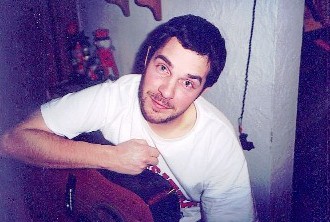 If using Internet Explorer and you want to save the file to your hard drive, right-click on the link and choose "Save Target As."
Computer Geek Love 03/01 -A farcical look at everyone's favorite tech support person.
Last Night of Summer 12/99 Dave Osborn plays drums.
How Ungrateful Am I? 1/00 Inspired by a Russell Rathbun sermon.
Long Way Down 1/00 Rocking love song inspired by boring days at Prudential.
Don't Do Me No Wrong 2/98 and 3/00 Chris DeWan plays drums. Another goof song to put you in the mood for love.
Leave the Biker 12/99 Fountains of Wayne song. Ralph Akale sings lead vocal. Dave Osborn drums.
Baby Britain - Elliott Smith song.
Lately I've Been Thinking About the Country spring 99 Written while out on a walk. Notice the bouncy cadence.
Lullaby 2/99 Love song. I really like this recording and song as a whole, especially the bass solo.
Rainbow Foods Jingle early 99 My award-winning (really) jingle that was on a few Mpls-St. Paul radio stations for one week in March 99.
Which Train MLK Day 99 Bluegrass/gospel.
Nice Girls 11/98 For my beloved sister.
Red Toyota 9/98 lyrics -Don, Jamie, Katie vocals- Don and Katie Osborn
Joe's New Shoes 1/98 I've always really liked the lyrics to this musically simple song.
Help Me Understand 8/97 I got Jamie to play accordion on this. This is one of the recordings I like the best. I like the pulsating distorted bass part.