Young Galaxy and The Dears
at the Fine Line Music Cafe
Minneapolis - December 7, 2006
http://myspace.com/younggalaxy
Young Galaxy. The songs they've been posting on their Myspace site over the last few months have all been great. The band as a live act is extremely new. This tour is the first time they have ever played out and I think they were on their 7th show when we saw them. Still, Stephan and crew know what they are about and played the songs with decent confidence. It was great to hear these songs we've been listening to on our computer in a live setting and full rock n roll volume.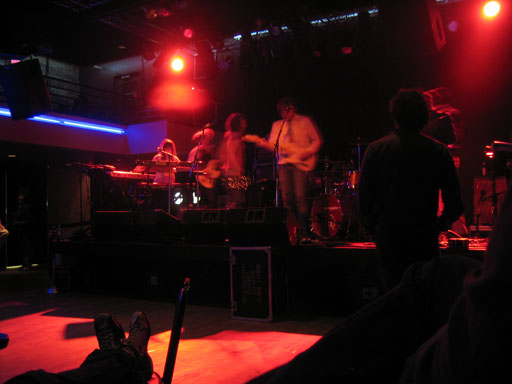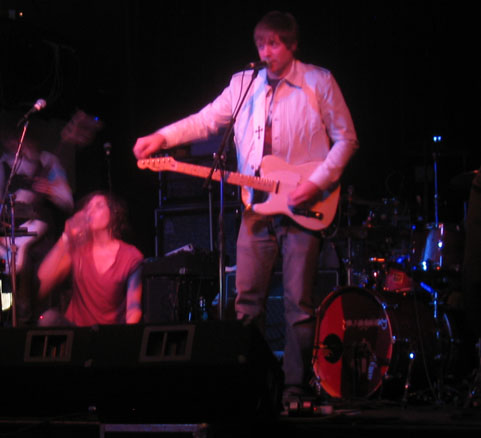 About the only shot I got of the guitar player at right.
After the show we talked with Stephan and Katherine for a while. They were both super amiable, and appreciative of our support. We talked about musical influences (Doves, Spiritualized, Verve) and how the tour has been going so far. Very nice folks.
Now for the videos.
These are NOT very good quality. However, if you are familiar with the music they at least give you the idea of what the band sounds like live.
v01_Come_and_See-YG-xvid.avi 4.2 MB This new song was an anthem, man. It gets in your head.
v02_Wailing_Wall-YG-xvid.avi 4.25 This song had gone missing since it was replaced on the Myspace site. It was great to hear it again.
v03_Outside_the_City-YG-xvid.avi 6.5 MB Same goes for this song as goes for Wailing Wall.
v04_Swing_Your_Heartache-YG-xvid.avi 4 MB Great song on record and great song live.
Unlike Young Galaxy, the Dears apparently have tons of live playing experience. I remarked to my brother, "did they go to Rock n Roll Band school?" They had the sound, the moves, the look, the songs, the background singing, the lights, it was pretty impressive. I have only become familiar with them since I knew I would be going to the show to see Young Galaxy. But man, they are a formidable live force.
Again, not the greatest quality videos but you can try them if you like.
v05_Ticket_to_Immortality-Dears-xvid.avi 600k
v06_Ticket_to_Immortality-Dears-xvid.avi 2.75 MB
v07_The_Second_Part-Dears-xvid.avi 1 MB
v08_Death_of_Romance-Dears-xvid.avi 1.9 MB
v09_Hate_then_Love-Dears-xvid.avi 8 MB