St. Paul Booze Cruize - June 30, 2007
This was the largest group yet assembled. I think we had 15 different people or more rotating through the group during the night.
Starting off in front of Don and Jamie's house, St. Paul. Pete shows up with...
a couple new friends. The glowing lights were pretty cool once it got dark.
Teresa joins the gang.
Charissa, Jamie and Anna ready to hit the road.
First stop, Pizza Luce on Selby Ave.
Parking the bikes in front of Pizza Luce.
First beer of the night. Mike and Don had Summit Scandia.
Matt and Anna. It was their first cruize. :)
Pic by Mike. Waiting to cross Lexington.
Stop #2, the Muddy Pig. To celebrate their 5th anniversary all draft beers were half off! D'oh, it would have been a good night to hole up there for hours. But that is not the nature of the cruize so after a beer we were off again.
Don had Monk's Cafe, a nicely balance Flemish Red, decently sour but with the appropriate sweet balance. You can see some of the taps that were half off.
Dave and Anna.
Photo by Mike. Heather and Heather.
Painting on a Muddy Pig wall.
Pete's glass and, apparently, Pete's spot.
Here is a video of Don chatting with the crew. Warning - includes a couple uses of "a$$." Video by Mike.
Stop #3 was a first for the booze cruize, Moscow on the Hill. Mike shot this video of the crew riding down Selby Ave to the place.
Before we headed inside we discovered that Grandma O (babysitting for Evelyn) had left Don and Jamie a hilarious message. Here is a video of the siblings listening to the message on speaker phone. Even better, here is the message itself in mp3 format. 700k Hue-mas indeed. :)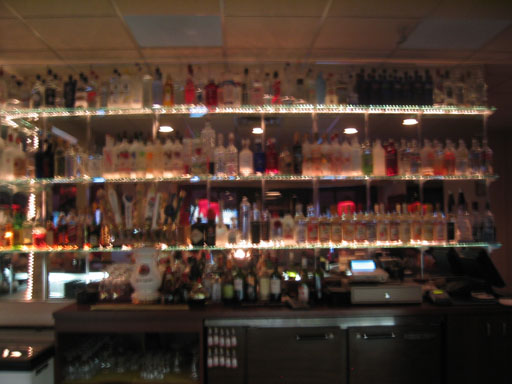 A blurry shot of the vodka selection. They are known for their homemade vodkas.
They have a really nice patio out back.
Jerry on the Moscow on the Hill patio. Here is a video pan of the scene.
Don showing Jerry some love.
Mike appropriately went with the Russian beer, Baltika porter.
Jamie, Dave, and others had a drink with cherry vodka and champagne.
Bathroom art, Moscow on the Hill.