Autumn Brew Review September 29, 2007
Historic Grain Belt Brewery in NE Minneapolis (first time at this new location)
This is the street view of the building. The festival was behind the building in a parking lot and in fact, the building itself didn't really have anything to do with the festival.
Waiting in line to get in and.... the rain started.
First beer of the day: Bells's Consecrator Doppelbock. This is the first year there has been any logo besides Autumn Brew Review on the glass (that was on the other side). I love my local homebrew store, Northern Brewer, so I like their smart logo on it. They must have sponsored the festival.
I have a number of pictures of beer and I am not going to be able to tell you what beers they are. Just enjoy the pretty colors and imagine the wonderful taste.
Click on pic for full size version of this panorama. The smaller tent at right is the music stage. The food booths were at the opposite end of the two larger tents. I really liked the space this year. The tents could have been slightly further apart, but there was ample room to move around.
I know what these two beers are (as well as my free Surly glass). Coffee Bender and one my favorites of the fest, Dahmer. Damher was Surly's Smoked Baltic Porter. I love smoked beers anyway and the concept of using smoked malt in a Baltic Porter is perfect.
Omar (just past the man pulling the hand pump) is the (co?) owner of Surly. He and brewer Todd are the men! Everything I tasted, from SurlyFest (hoppy seasonal lager) to the Bourbon Barrel Aged One, to Barrel Aged Darkness, were outstanding beers. They, being local cool-beer-heroes, had some of the longest lines of the fest for their special releases.
New Holland brought their version of a Dogfish head Randall, dubbed, "the Hatterizer." They put their Mad Hatter IPA through it and man oh man, the hop aroma was unlike anything I've tried. It bumped up the hop flavor a bit too.
At right is the "Hatterized" Mad Hatter, and the New Holland booth is just in front of me.
Unknown but crooked beers.
Another cool stop was the MNBeer.com and Twin Cities Imbiber booth. It was fun to meet Ryan (left) and I've known Jeff for a long time. Jeff got his grubby mits on a keg of Cantillon Cru Bruocsella. It drew quite a collection of lambic fans and did not last the day. Thanks for that tasty treat Jeff.
Cantillon on tap. Yup. It was a hard job but someone had to drink it.
Fitger's Breakwater Blue (shown) was tied with Dahmer for my favorite of the fest. I had never heard or thought of adding blueberries to a Wit beer, but it was a perfect complement. Simply wonderful.
More unlabeled but I'm sure yummy beers. As you can see, I bring a glass from a previous fest so I can two-fist it throughout the day. It saves a lot of waiting in line, but does contribute to rampant hiccupping. Also, it was not a total rain out. Here you can see a time when we had some sun.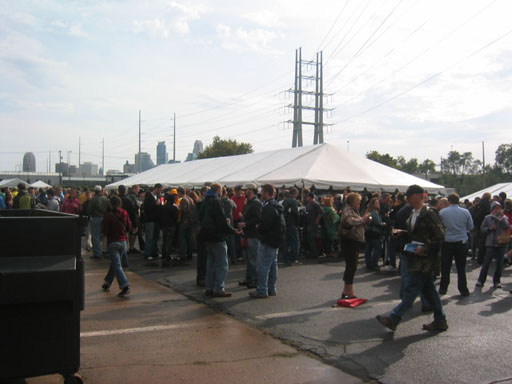 End of one of the tents.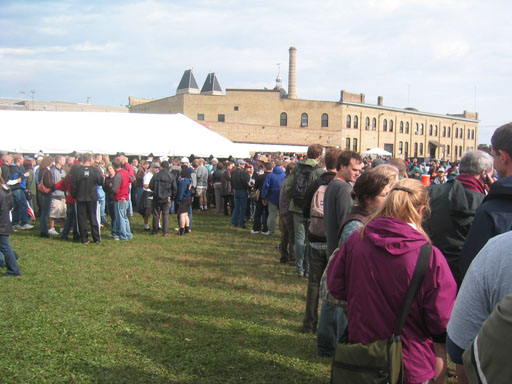 This was the line for a Surly special release. Here is a video of walking down the line up to the booth. 8.9 MB
It was fairly crowded but manageable.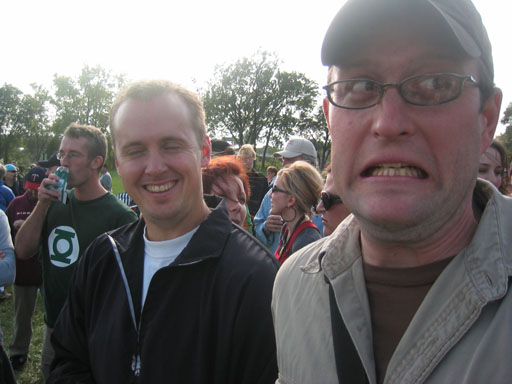 Rob, silly faced Adam.
Little bit of blue sky.
Adam, Don.
The music was better than ever this year too. Romantica is shown here.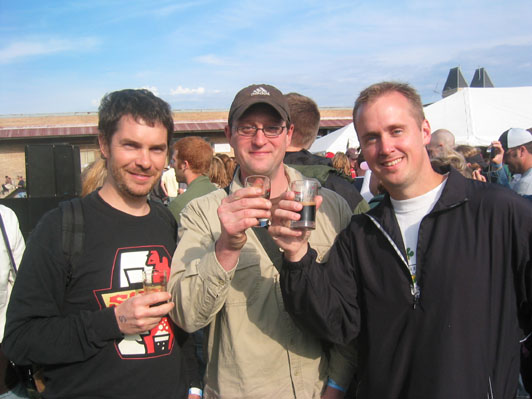 Don, Adam, Rob.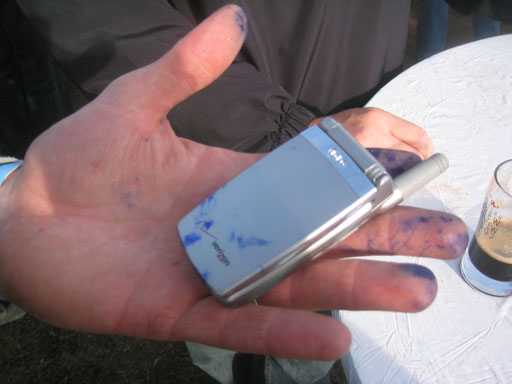 Oops. Adam made the discovery that a pen had exploded.
More samples.
Viking's booth. They always bring a great a variety of different beers, but they do vary in quality.
This picture was not the only thing blurring by the end of the fest.
I was given a ride home (thanks Sarah and Adam) and can't wait until next year. The MN Craft Brewer's Guild really stepped it up. I have been to all 7 ABRs. I loved them at first, but felt the last few were only so-so as far as the selection and layout went. But the festival is back in a big way and it will probably be even more difficult to get tickets next year.
Near the bottom of this page you can find a list of the 45 beers I sampled.