We enjoyed mega-delicious sandwiches with garlic olives, mature sharp cheese, peppered ham, and crispy baguettes in Battersea Park.
Dave and Charissa crossing Prince Albert Bridge, which is not known for anything special as far as I am aware.
We got a little cool sitting outside eating our sandwiches and spent some good time warming up in a coffeehouse.
These are the impressive and massive guns outside of the Imperial War Museum. You can see some people in the background by them, to give you a size reference. I believe they were on an aircraft carrier.
Part of the lobby in the War Museum. Also in the museum is a (temporary?) exhibit about the holocaust that was extremely well done. It had a perfect mixture of text, audio, video, and pictures.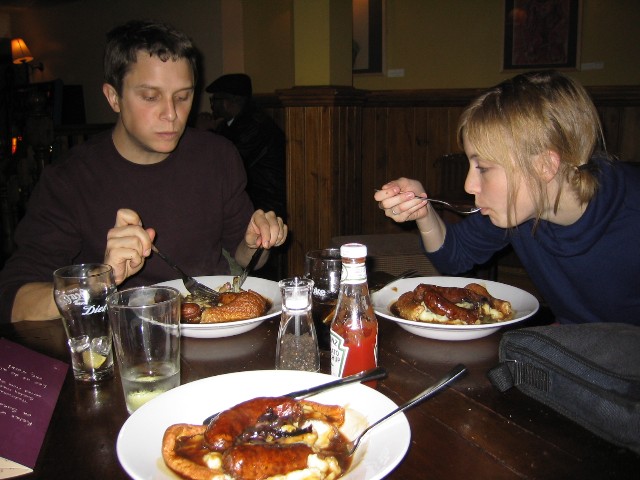 So it wasn't the greatest place to eat (horrible music, no real ale, boring interior) but they did make some mean bangers and mash, which we all ordered.
No comment. I think this was at the Prince of Wales pub, and Dave and Don loved it. 2.2 MB